In Mexico, heart failure is a condition that affects 2% of the adult population (1). Mexico is one of the countries in Latin America that spends the most on heart disease with 6.1 billion dollars annually (2)
The clinic's comprehensive care model seeks to reduce hospitalizations and substantially improve the quality of life of patients with this condition.
It is the first Clinic in Latin America developed in collaboration with the companies: Novartis and Medtronic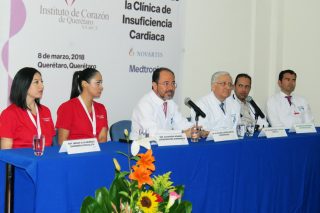 Queretaro, Qro. March 8, 2018.- The Instituto de Corazón de Querétaro presented an innovative model for specialized care for heart failure, whose objective is to improve the diagnosis and treatment of this condition and, with it, the quality and life expectancy of patients. patients.
Dr. Eliodoro Castro Montes, founding member of the Querétaro Heart Institute and professor at the UAQ School of Medicine, pointed out at a press conference that heart failure is characterized by increasing difficulty in pumping oxygenated blood to the organs. "Consequently, patients suffer from breathing problems, fatigue, fluid accumulation in the lungs, and swelling of the lower limbs, and when they decompensate, they need to be hospitalized urgently for proper treatment," he stressed.
It is estimated that 2 out of every 100 adults in the world (3) ,(4) suffer from this condition which, as it worsens with age, generates enormous hospital costs and high mortality. In fact, in Latin America 6.5 million people live with this condition1, whose financial cost in the region reaches 10.7 billion dollars(5).
In Mexico, heart failure affects 2% of the adult population(6). Mexico is one of the Latin American countries that spends the most on heart disease with 6.1 billion dollars a year(7). The total cost of heart failure for the Health System was 481 million dollars in 2015(8).
Heart failure is a public health problem, which is why it is increasingly important to treat the disease promptly through multidisciplinary treatment, as studies indicate that half of patients with heart failure will die within 5 years. at diagnosis(9). In fact, this condition is a picture shared by many heart diseases such as hypertension, coronary disease (heart attack and angina), heart valve diseases, congenital heart disease, heart damage from chemotherapy or drugs.
1. Estudio "La Carga Económica de las Enfermedades Cardiacas en México" 2016
2. Estudio "The Economic Burden of Heart conditions in Latin America" 2016
3. McMurray et al. Eur Heart J 2012 ; 33 :1787-847
4. Mosterd& Hoes. Heart 2007; 93:1137-46
5. Estudio "The Economic Burden of Heart Failure in Latin America" 2016
6. Estudio "La Carga Económica de las Enfermedades Cardiacas en México" 2016
7. Estudio "The Economic Burden of Heart conditions in Latin America" 2016
8. Estudio "Carga de las enfermedades del corazón en México", 2016
9. Roger VL, Weston SA, Redfiel MM, et. Al. Trends in heart failure incidence and survival in a community-based population. JAMA. 2004; 291(3):344-350